External data monetization in practive – Deutsche Telekom case study
Matej Misik | Market Locator
Case study of Slovak Telekom
Working with big data in various companies often takes place in a typical sequence – identification of interesting data, storage in appropriate technologies, subsequent use for internal purposes (mostly campaigning). After sufficient "confidence" in the internal use has been built up companies begin to consider how much of the data's potential value can be converted into real monetary value, thus embarking on the external data monetize journey. Initially this is usually in the form of tailor-made analysis for each major players – large corporations or the state. The pinnacle of this imaginary pyramid of data monetization is a widely-available solution that enables data to tell it's story to a wide range of companies and institutions.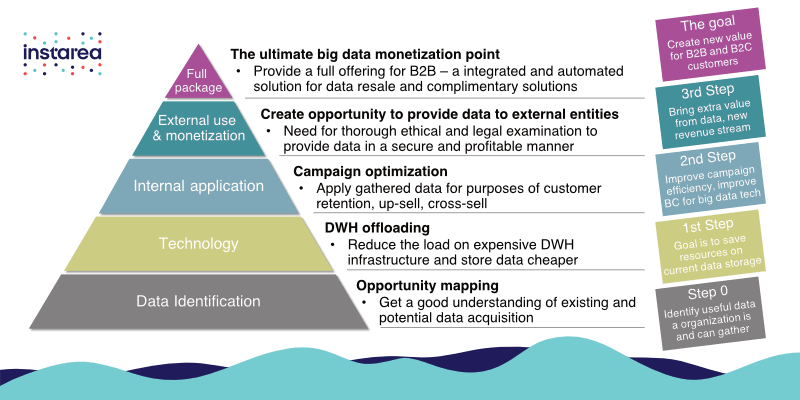 1 Market Locator at Slovak Telekom
At Instarea together with Slovak Telekom (member of Deutsche Telekom Group) we managed to reach this imaginary pyramid's peak & we call it Market Locator. Market Locator unlocked the potential value of big data at Slovak Telekom & enabled access to powerful analysis for diverse companies which can now rely on "hard-data" to profile the population. Companies use this data for example when planning the location of a new branch. On the other hand, it grants companies access to the mass & precision of targeted marketing in the physical world. Customers of Market Locator are thus able to deliver marketing content to the right person and also the right place. Slovak Telekom offers their anonymized and aggregated data in a self-service platform. This platform proves that external data monetization is just as possible in the physics world in a model akin to that of Google in it's Google Analytics or Google Adwords services of the online world.
The resulting solution Market Locator is a symbiosis of analytics on the one hand and the ability to react to this insight using multi-channel target marketing. 
B2B customers of telecommunication operator gain access to analytics presented on heat-maps & reports. Targeted campaigns are based on a number of attributes such as socio-demographic, mobile hardware and the services used, travel habits, financial responsibility and many others. The solution was built to support various communication channels – be it SMS, email, invoice inserts or digital billboards.
2 Data monetization road to success
The work towards a successful monetization strategy begins a definition of your company's data strategy followed with a proper legal & ethical consideration resulting in necessary work in the field of aggregation and anonymisation of data. It is essential to work with client data with great caution and in line with GDPR regulation. Not only from the legislative point of view, but also from a PR point of view and being very transparent with the consumer. In addition to a purely legal point of view we focused on the PR side and set out to deliver our data-monetization strategy in the telco world on a clear "public good" message.
3 Results & opportunities
In addition to profitability in the first year and constantly growing revenue (which with smaller company customers contributes up to 50% of their respective telco wallet) we managed to show the ability to deliver a multi-provider solution. On the Slovak market Market Locator has been joined by Orange and O2, which grants Market Locator customers access to analytics & targeted marketing towards nearly the entire population, using a single solution. The next step is to create a global solution that eliminates the boundaries in terms of population analytics and targeted marketing. Advanced discussions are ongoing in the Czech Republic, Hungary, Poland, Montenegro, Bulgaria, Romania, Canada, USA and the Middle East. For a telco with about 2 million customers it is the opportunity to achieve bottom-line impact of about € 2 million per annum in the short term.
4 Be the next to offer Market Locator on your market
Market Locator has global ambitions and we are constantly looking for telco partners around the world. Because the solution is provided on a revenue share basis, this cooperation is not burdened by huge CAPEX. It's an existing solution and comes with a comprehensive marketing and sales package. Typically, thanks to our implementation experience together with our partners we can achieve a full product launch in less than five months. Make sure to read more on Market Locator also on our Instarea product page and get in touch with ous at hello@marketlocator.com