Where are the most popular malls for Christmas shoppers in Bratislava?
Matej Misik | Market Locator
The biggest shopping centres in Bratislava attract people from far away. Shopping in big shopping centers is a trend of last decades, which influences our daily regime and christmas shopping too. During advent you have problem to park your car in big shopping parks, but shopkeepers are really happy thanks to increasing revenues. But there is a liitle question, where are the customers?
Comfort advent weekends
We have a look on four biggest shopping malls in Bratislava, Aupark, Avion, Bory-Mall and Eurovea. Based on telecomunication data with millions of daily events, we create an analyses of more than millions people in Slovakia. We choose the last weekend before christmas, 17. and 18. December.
Our data shows, that Aupark and Eurovea are understanded as shopping centers for their nearest surroundings. About half of Aupark visitors is comming from distance no longer than 5 kilometers. And more than 25% of visitors of both shopping malls (Aupark and Eurovea) are comming just from 3 kilometer distance – that route can be completed in minutes any way – by car, by foot or with public transportation. Just for comparison, to the two others shopping centers people come from twice as long distance. In this table you can see traveling distances of arriving customers: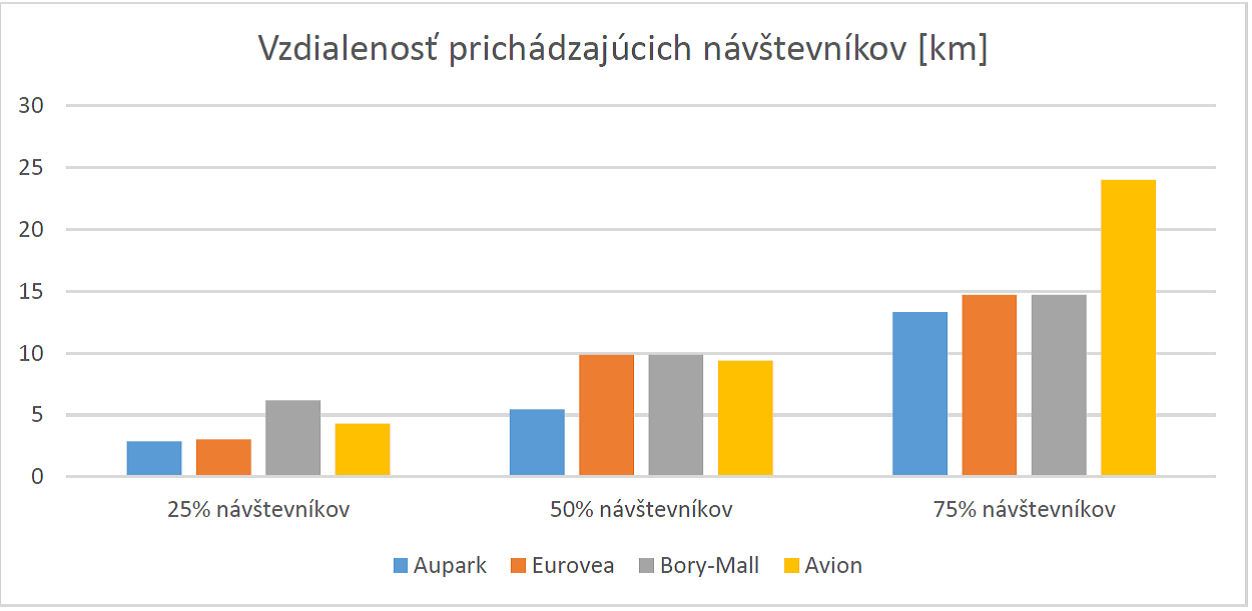 Shopping center Avion is the first choice for non-Bratislava customers. There is no surprise, that 75% of visitors comes from 24 kilometer distance.
View from dynamic perspective
Aupark
Shopping center Aupark benefits from location in the biggest district in Slovakia, Petržalka. This is, where majority of customers comes from. Second biggest source of visitors are districts Staré a Nové mesto (Downtown and Uptown). In these three districts live nearly half of citizens (190 902) of our capital city.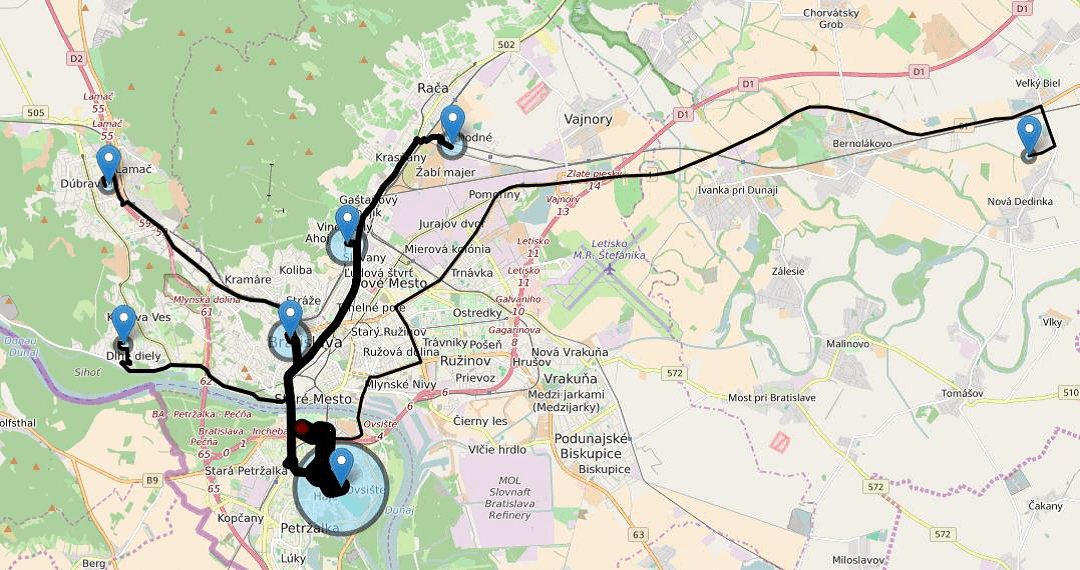 Avion
Shopping center Avion is located in Trnávka, on the edge of Bratislava, and is the second choice of people living in Petržalka. The majority of Avions visitors comes from Petržalka. Second biggest group of visitors comes from district Rača.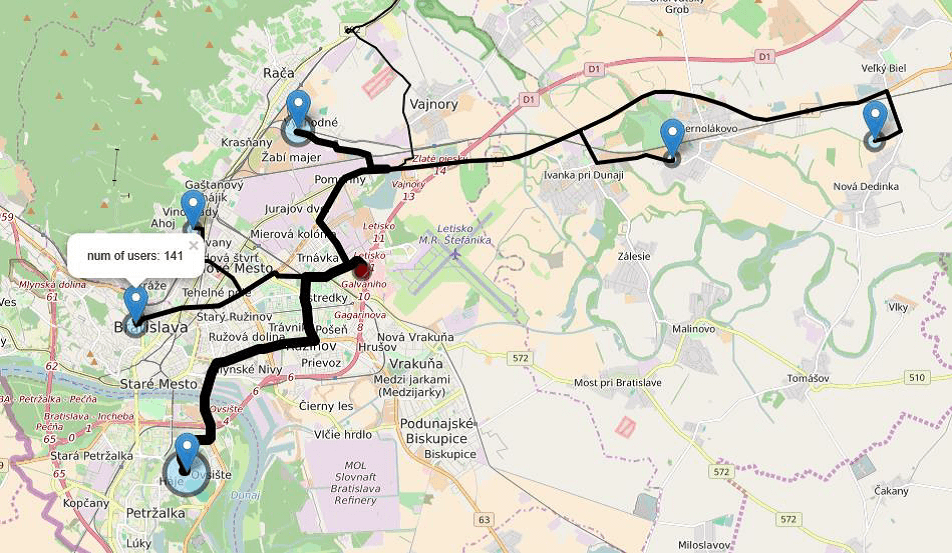 Bory Mall
Bory Mall is located on the opposite edge of Bratislava as Avion, and is first choice for visitors from small cities on very eastern Slovakia. Visitors from Stupava (and surroundings) are third biggest group of customers in Bory Mall. Two biggest groups come from Petržalka and Nové mesto, thanks to easy accessible highway.
Eurovea
If we look on the amount of events, Eurovea is the leader of our small research. Two biggest groups consists of visitors from Petržalka and Nové mesto. But Eurovea is very popular for visitors from Rača and Dlhé diely, too.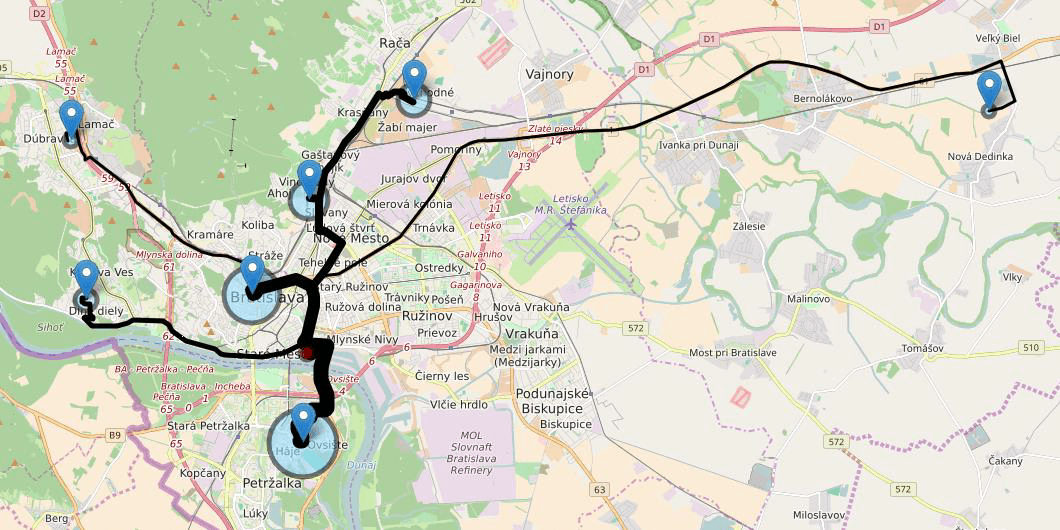 This article was published in PC Revue (Slovak IT magazine).